Keyed mechanical lockers are increasingly becoming a thing of the past. Customers have grown accustomed to technology making their lives easier and no longer want to use and keep track of keys, coins or padlocks. Electronic keyless lockers not only provide the convenience your guests expect, but also several other benefits that make it well worth upgrading from a keyed system.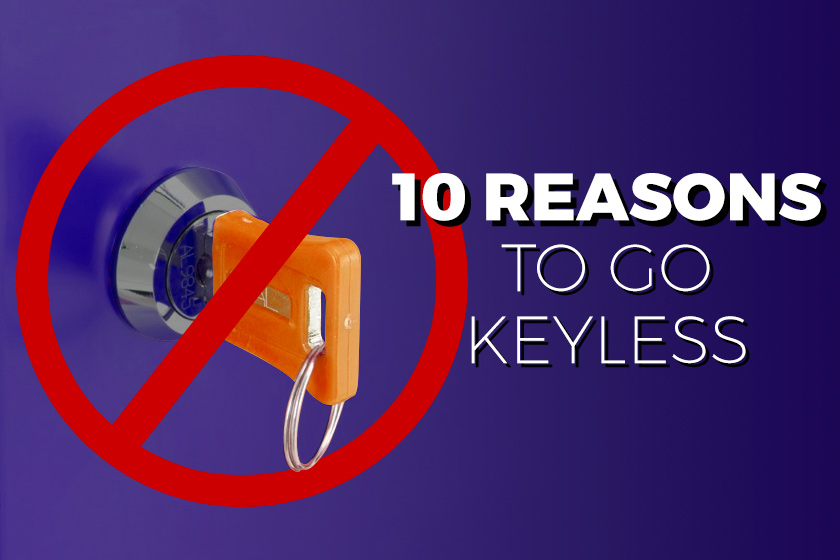 Here are the Top 10 Reasons to use Electronic Keyless Lockers in your Amusement or Water Park
#1 – Increased Revenue
Guests are willing to pay more for better service. Keyless electronic lockers command a higher rental price due to their superior convenience and security features.
#2 – No More Lost or Broken Keys to Replace
Guests lose keys frequently or leave the park and forget to turn them in. They can also get broken off in locks. Keys are expensiveto replace, and lockers remain out of service until a replacement key has been sourced. A keyless system eliminates this problem and provides peace of mind for your customers, who gain access to their belongings with a simple PIN code.
#3 –  Better Security
Lost keys are a security risk, as any unscrupulous person who finds a lost key can access that locker.  With keyless lockers, a secure, unique PIN protects against any risks.
#4 – No need for dedicated staff to keep track of physical keys
Keyed lockers often require dedicated park staff to take key deposits and locker payments and to issue keys and refund deposits when keys are returned. These chores are eliminated with keyless lockers which require no park staff intervention.
#5 – Increased Utilization
Keyless lockers allow quick turnaround of locker rentals – as soon as a guest has ended their  rental, the locker is immediately available for re-hire. With keyed lockers there is often a delay between a guest clearing out their locker and handing their key back to park staff. This delay can be up to 30 minutes with a large park, and until the key is handed back the locker cannot be earning revenue.
#6 – Usage Control
At large theme park locations where guests return on multiple days, there is a risk with keyed lockers that a guest will pay for one day's locker rental then use it for multiple days rather than turning in their key each day. With keyless lockers the rental is electronically closed out at the end of the day and the PIN will not be valid the following day, preventing guests having multiple day usage when paying for only one day.
#7- Increased Flexibility
Rental pricing can be managed easily and changed instantly through the Payment Control Station software, allowing you to test different price points for maximum revenue.
This is a big advantage, particularly over retained key lockers that require coins. With retained key lockers locations are limited as to what they can charge – maximum is typically 4 x one coin, e.g. 4 x 25 cent coin = $1.  Also, the coin must be the same type, which can cause problems (guests don't have the correct change and so don't rent a locker, or guests are continually asking location to change notes for coins so they can use lockers). All these problems are removed when using electronic keyless lockers where settings can be easily tweaked and tested.
#8 – Reporting & Analytics
Electronic keyless lockers have full background reporting, so the location knows how many lockers have been rented, how much revenue has been generated, etc.
You can easily use this information to optimize the locker service offered to guests and to maximize revenue. Which lockers get used most? When are you operating at capacity? These stats allow you to plan space utilization, price points and many other improvements.
#9 – Greater Convenience for Your Guests
Given the choice, most people wouldcertainlyrather not carry around a locker key while they are having fun at your park. A key can be uncomfortable to carry, or a nuisance thatpeople worry about losing. Keyless lockers are especially convenient for families or friends sharing a locker, as it allows everyone to access a single locker using a unique PIN rather than having to find the key-holder somewhere in the park.
#10 – Staying Modern and Keeping up with Technology.
Most people use technology in every almost aspect of their lives and get more familiar with digital interfaces and point of sale checkout in every day life. Aside from being a lot more impressive than a room full of mechanical lockers, your electronic lockers set an important tone with your guests, showing them that your business is modern and progressive.
There are many more benefits of having keyless electronic lockers, these are just a few. Get in contact with our sales team to find out more!