Dallas, TX, July 2018 – The Locker Network completed another successful aquarium installation with the addition of its electronic locker system at Shedd Aquarium in Chicago. The venue upgraded its outdated keyed lockers with 304 keyless lockers installed free of charge through The Locker Network's revenue share program. Shedd Aquarium will receive ongoing revenues from locker sales with day-to-day operation and management of the system being handled by The Locker Network.
Meghan Curran, Senior Vice President of Shedd Aquarium said, "This new installation is a direct response to the changing needs of our guests. The new lockers allow us to modernize our experience, while still ensuring security."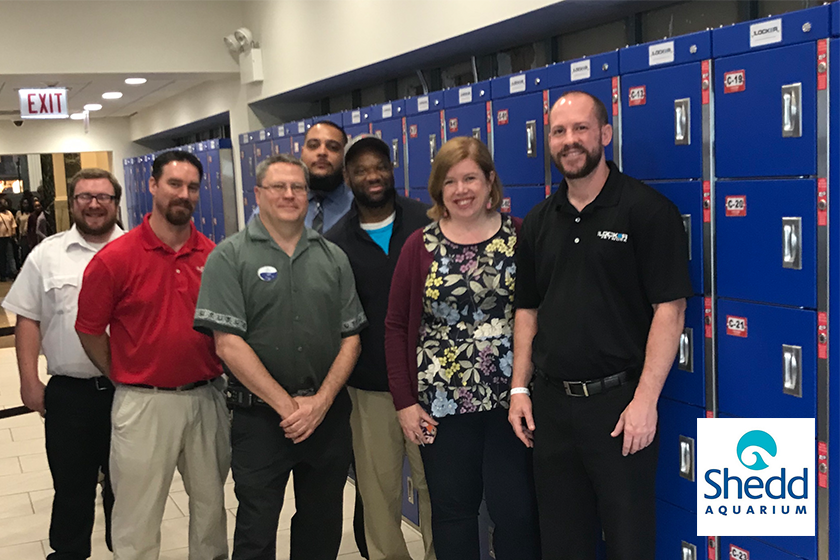 Located on the shores of Lake Michigan, Shedd Aquarium is one of the top-attended aquariums in the U.S., allowing guests the opportunity to discover aquatic animals and habitats representing wildlife from around the world. There are several permanent exhibits at Shedd including the Abbott Oceanarium, where visitors can get eye-to-eye with beluga whales, dolphins, sea otters, sea lions and penguins; the 90,000-gallon Caribbean Reef; Amazon Rising, an exhibit recreating a year in the life of the Amazon River basin, and the Polar Play Zone, an interactive attraction designed just for kids where they can play and discover through hands-on activities.
For more information, visit www.sheddaquarium.org.
About The Locker Network
The Locker Network, a subsidiary of Helix Leisure, is a leading manufacturer and supplier of advanced keyless networked electronic locker systems to leisure and entertainment facilities worldwide. The Locker Network draws on a legacy of 55 years of experience in the entertainment and game industry. The Locker Network is chosen for their outstanding reliability, ease of use, high levels of security and comprehensive support and monitoring. Incorporating the latest touch-screen technology, multi-payment and multi-language options and secure access control, your guests can rent a locker easily and quickly.
The Locker Network will help you to determine an optimum locker configuration and revenue model to suit the needs of your location. Once installed, the exceptional durability and performance of the lockers means very minimal to no staff supervision is required, allowing you to focus on your core business.
Follow The Locker Network on LinkedIn for more updates.