How to choose the right lockers for your waterpark
Waterpark lockers have a hard life. Their doors get slammed and kicked. Wet clothes and towels are thrown into them. Their loose locker keys can get lost or be an attractive target for opportunistic thieves. Sometimes they even get uprooted and moved around the park.
Keeping in mind this wear-and-tear, it's important to select well-constructed lockers made of durable materials to ensure a smooth operation within this challenging environment.
Here are the top 5 things you should look for when choosing the waterpark lockers to suit the demands of your facility.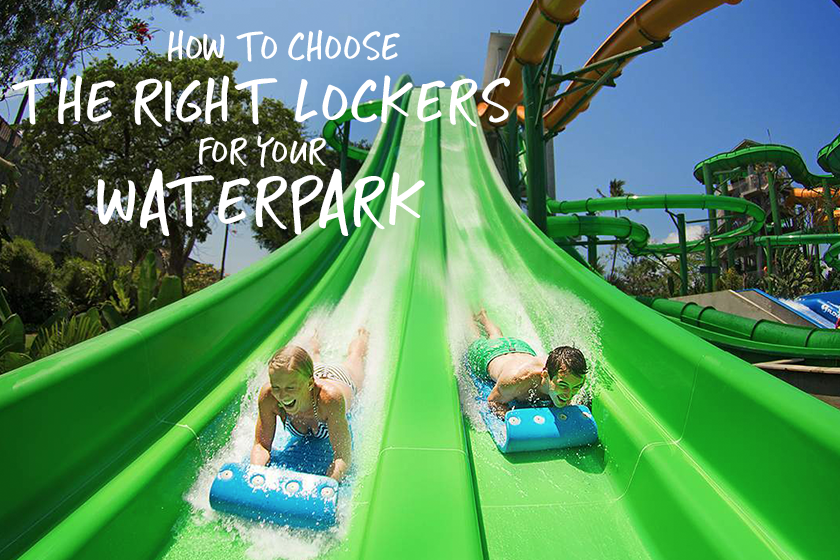 #1 – DURABILITY
Waterpark lockers doors are opened and closed multiple times each day by guests. Sometimes they are closed carefully, sometimes they are slammed shut! This constant abuse means that it is essential that doors are sturdy, durable and resistant to warping or twisting which would cause the door to jam shut or not engage with the lock correctly.
The Locker Network doors are solid steel welded with internal reinforced plates that make it impossible for them to warp or twist. Door hinges are stainless steel and designed to last a lifetime of abuse with trouble-free use. The solid steel construction is also highly secure and cannot be broken into (unlike plastic or composite material locker doors). The doors are made from powder-coated, zinc dipped steel or stainless steel, not plastic or wood. This makes them resistant to chemicals used in pools as well as sun screens and creams that are often transferred from guests' fingers to doors. Door handles are made from stainless steel for durability and long, maintenance-free use.
Waterpark locker door locks must also be resistant to abuse. The Locker Network locks are made from 3mm stainless steel plate with solid cast stainless steel lock components. They are designed with minimal parts to be jam resistant and highly secure.
#2 – SECURITY
Waterpark lockers tend to be spread over a wide area within the park, which makes monitoring their security more difficult.
Lost keys can pose a security concern, as any unscrupulous person who finds a lost key can access that locker. Implementing a keyless locker system eliminates this hazard because a secure, unique PIN protects against any risk of guests losing their locker keys.
On top of the added security that a keyless system provides, The Locker Network lockers are more resistant to break-in by thieves as they are made from 100% steal, with reinforced doors and high-security locks.
#3 – PROMOTE GUEST HEALTH
Waterpark lockers are often used by guests to store wet towels, wet clothes and bathing suits, and even drinks! These can create a humid environment inside the locker compartments that is perfect for mold and mildew, which are expensive and time-consuming to remove.
The Locker Network lockers have 100% stainless steel shelves which are microbial resistant and impermeable to moisture. Stainless steel is a non-porous surface that that won't accumulate mildew and is naturally germ resistant, promoting a healthy and sanitary locker environment. Simple cleaning is all that's needed, and you can ensure that your lockers will stay healthy and functional for a very long time.
#4 – WEATHER & WATER RESISTANCE
Waterpark lockers tend to be located outdoors where they are subject to moisture/spray and high temperatures which may damage lockers or affect their operation. Depending on the environment that the lockers are placed in, materials resistant to rust and corrosion may be required to ensure that you get a quality product that will stand the test of time.
The Locker Network lockers are made from powder-coated, zinc dipped steel or stainless steel and are designed for long term outside use (under open sided shelter to prevent direct rain/snow). Payment stations have IP66 waterproof rated components like touch-screens and credit card readers fitted. Payment stations contain industrial standard PCs with a high temperature rating – resistant to extreme operating temperatures experienced by outside cabinets located in direct sunlight.
#5 – DEPENDABILITY
Waterpark guests tend to stay in the park for the full day which means that there is frequently a rush to rent lockers in the morning and a rush to vacate lockers at the end of the day. Because of these usage peaks it is essential that guest rental throughput is fast and smooth. It is also very important that continuity of locker operation is maintained if there is a critical power failure during peak times.
The Locker Network lockers have touch screen operated payment stations with a fast, simple to understand rental process which minimizes lines during peak times and does not require a full time staff member to manually handle the rental allocations.  All lockers have a battery back-up so that guests can continue using lockers even during a critical power failure.
When it comes to making the final decision of which type of lockers to use at your waterpark, there are a lot of factors to consider to make the best choice for your location. As a facility manager, you should weigh the options carefully, taking into consideration guest convenience and longevity.
Want to learn more about how our lockers are built tough especially for the high-traffic waterpark environment? Please contact our experienced sales team here.