How a Seasonal Review Enhances Locker Performance
The Locker Network is committed to the long-term success of our installations in our customer's venues. This is especially important in water parks, where the environment plays a factor in the decision making process for outdoor hardware components such as lockers.  Outdoor locker solutions need to be able to stand up to the rugged environment that naturally comes with the territory of operating a water park, but there are many other considerations.  Placement, pricing and the number of lockers in different areas of the park all need to be thought out and reviewed to ensure maximum performance.
At the end of every season, The Locker Network plays an active role in reviewing our installation and making sure our electronic lockers are performing at their peak to provide guests with total convenience, and our operator's the opportunity for the best revenue.
Preparing your Park for a Successful Season
All lockers need to be thoroughly inspected and tested following an extended period where it is not operational before it is opened to the public to ensure that they are running safe and smoothly.
While there is a long list of things that need to be done at the start of a new season, here are three most significant ones:
Assess the number and type of lockers required to cope with forecast customer usage for new season. Make adjustments in quantity, type and distribution if necessary, as well as carry out any new infrastructure requirements if adding more lockers.
Check all locker signage – add more signage if we consider this will improve guest awareness of lockers.
Give training to new on-site staff – with seasonal locations like waterparks staff change a lot and we have to educate new staff before gates re-open.
Clean and inspect all existing lockers with particular attention for insect infestation – these tend to enter lockers during the offseason through locker ventilation holes – and need to be cleaned out so not to spook guests! Also check and clean out any water which tends to collect in the bottom locker in each cabinet.
Test locks and make sure they all are aligned. Make sure locks work and there are no jams. Check all lockers for mechanical damage and make touch up repairs if necessary. Make sure all locker handles are sound and attached properly. Check all locker door buttons to make sure all our operating correctly. Check all existing decals for damage or UV fading (and replace if necessary).
Check software on all payment control stations to make sure all is working well. This includes testing/calibration of touch screens and test transactions for credit card and dollar bill acceptors, and testing of network connectivity.
By keeping your park's lockers properly maintained, we can ensure not just high performance, but avoid downtime and ensure safety and higher guest satisfaction.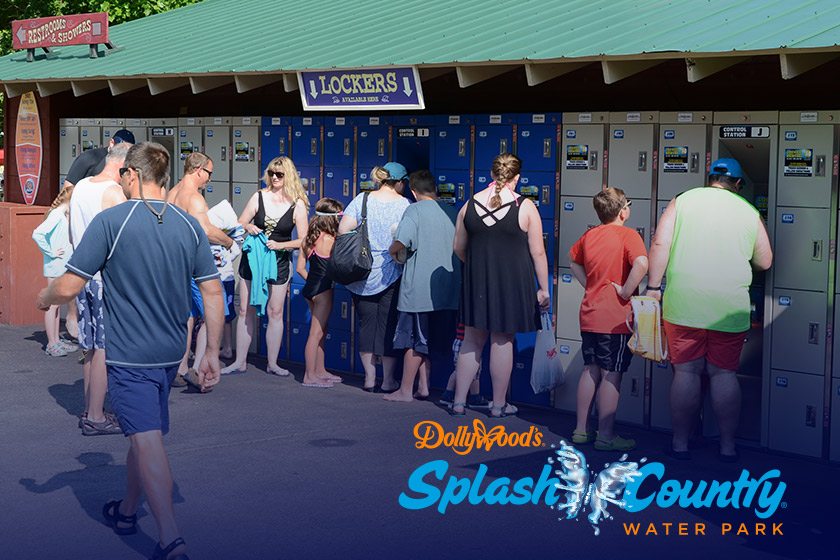 End of Season Enhancement Case Study:
Dollywood's Splash Country
Dollywood's Splash Country is a 35-acre water park located in in the foothills of the Great Smoky Mountains, adjacent to the Dollywood theme park. It is one of the top 10 waterparks in the USA and is part of the Herschend Family Entertainment Corporation, who owns, operates and manages 23 family-oriented theme parks and attractions across the country.
The location features a variety of water slides and attractions, ranging from mild to wild: The Cascades, an 8,000-sq. ft. lagoon-style leisure pool, Fire Tower Falls, the state's tallest twin speed slides; Bear Mountain Fire Tower, a multi-level interactive water adventure; Mountain Waves, a 25,000-sq.-ft. wave pool; Slick Rock Racer, a multi-mat slide; the Downbound Float Trip, a relaxing lazy river as well as interactive children's play areas and a wide range of dining options.
The Locker Network (TLN) has been operating the lockers at Splash Country from the start of the 2015 season, and operates at other Herschend locations as well.
These lockers are operated on a revenue share basis where TLN own, service and support the lockers and distribute a percentage of the revenue with the park.
Splash Country has a mix of larger family and standard sized lockers, and the proportion of lockers has been carefully calculated to best serve their particular visitor demographic.
Getting ready for the next season with our performance improvement plan
As part of our customer service, we work carefully with park management to optimize the locker service offered to guests and to maximize revenue. At the conclusion of every season, the TLN team conduct a comprehensive review the locker operations and determine if any changes to the configuration would further enhance the lockers' performance in the following season.
These are some of the improvements implemented for the new summer season: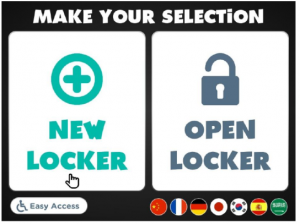 Updated the control station to our latest BOSS software – offering a simplified touch screen user interface which improves the guest experience and significantly reduces abandoned transactions. The BOSS software has also shortened the guest transaction time by an average of 15 seconds.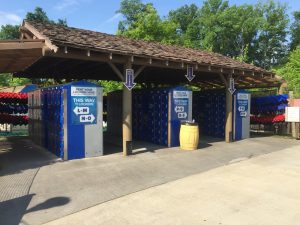 Added additional family lockers to better suit the visitor demographic.
Relocated some of the lockers banks by the 25,000-sq.-ft. wave pool area to optimize guest traffic flows.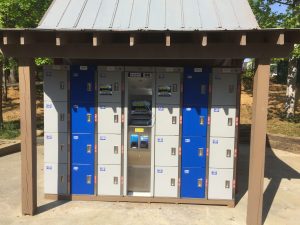 Added two new locker stations to highly visible areas near the park entrance.
Because of these modifications, the locker revenues for the 2017 season increased by 6% in a market where overall guest visitor numbers year-on-year had declined due to the large forest fires of 2016.
Lockers designed & built for the tough Water Park environment
One major consideration in water park design is corrosion resistance. Waterparks typically use chlorine in their pools which is corrosive to steel, so when operating in waterparks TLN uses 316 marine grade stainless steel in the construction of the lockers. This prevents rust stains or "tea-staining" from transferring to guests' belongings during normal operations. It also extends the life of the lockers in this harsh operating environment.
Waterparks are seasonal, and on warm days lockers are in constant use, taxing doors and locking mechanisms. Designed for a 20-year lifespan the TLN lockers include our patented stainless-steel lock offering highly secure and jam-free operation. The hinge-less doors are secured by recessed stainless steel pins with high crowbar-resistance and are welded with reinforced panels to prevent lock misalignment and high security.
With TLN lockers your guest's belongings remain safe and operational costs are kept to a minimum.
Our customer service includes staff from The Locker Network who work onsite to perform pre-opening checks every day and are there to assist park guests during all operational hours.